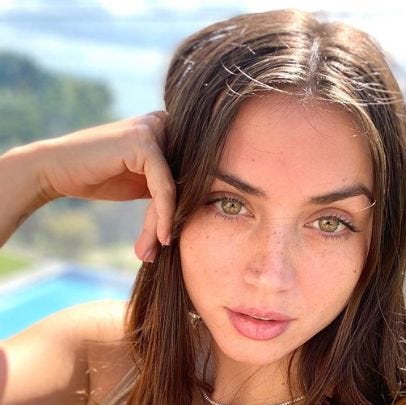 Ana de Armas is the Hollywood starlet of the minute. Since her breakout role in Blade Runner 2049, she's joined the ranks of the Bond girls, played a CIA agent in Netflix's The Gray Man, and the biopic Blonde, in which De Armas plays the role of Marilyn Monroe, landed on Netflix earlier this year. An impressive CV, right?
To prep for filming, she takes on some seriously intense training regimes and, spoiler alert, she's met each and every brief.
Her usual approach to exercise and nutrition, however, couldn't be more different. While De Armas goes ham in the gym to fulfil her movie roles (it is her job, after all), outside of work she's all about balance. This has helped her maintain some level of calm within a V busy lifestyle, so if that sounds like something you could benefit from (who couldn't?), here are 15 health and fitness tips De Armas swears by.
Advertisement – Continue Reading Below
1
She prioritises workouts that benefit her mental health
In between doing intense workouts for her film roles (more on this to come), she makes time for the kind of fitness that helps keep her grounded, mentally. Her favourite? Pilates. Finding the time to squeeze in a workout between shoots is hard, she tells Vogue US, but 'I've been going to this beautiful pilates studio very close to my hotel [and it's] keeping me sane.'
2
She uses food for enjoyment, not just fuel
Fact: Ana loves her food. In an interview with Elle US, she reveals that her go-to comfort meal is a classic Cuban dish of rice and beans with a fried egg on top. Yum.
Everybody needs a little 'me' time, and De Armas is no different. 'I do meditate,' she tells Vogue, 'I like it very much. When you start doing it and you're consistent with it, you realise how much it helps with all the things that come up for you.
'It's been a very intense year for everybody and I thought that it was important to figure out a way in which I could create space to take time for myself to think, meditate, feel good and healthy.'
4
She helps her muscles recover with a massage gun
Serious workouts require serious R&R, and there are some miracle products out there to help you soothe your muscles after a good gym sesh including, case in point, the Theragun massage gun. We're no strangers to the magic of this nifty gadget, and neither is De Armas. 'I hold all of my tension in my shoulders and my legs, and this device is incredible,' she tells Vogue US. 'It's a good complement to Epsom salts and arnica cream as it helps the muscles to relax.'
5
She's open to new forms of fitness
Granted, you're probably not training for a role in a Blockbuster movie, but the bottom line here is that there may be more enjoyable forms of exercise out there that you're yet to try. For De Armas, this was shooting, a hobby she only discovered when prepping for another role.
'I have to prepare for action films I'm doing with really intense physical work, training, and choreography. I do it from 9am to 2pm, and then I get a break,' she tells Vogue UK.
'On the weekends I get to go to the shooting range and I practice shooting with firearms that I have to use in the film. I enjoy it very much.'
De Armas prioritises her happiness over sticking to strict diets. She tells People that 'the truth is that I'm not very disciplined with diets. In general, I do whatever makes me happy in life, and food makes me quite happy!' Amen.
7
She spends time in nature
De Armas might crush it in the gym when it comes to filming movies, but if her Insta is anything to go by then it looks like she loves getting a sweat on outdoors, too. She tries to make an effort to swim in the summer months, she tells Vogue US, and her feed is filled with snaps of her out walking (with some very impressive landscapes behind her.)
Studies have shown that outdoor exercise could be the most beneficial for your mental health, since it leads to improved mood, lower anxiety and more positive emotions.
De Armas' fur baby Elvis is her BFF and is often seen accompanying her on walks. While walking is proven to strengthen your legs and core, it can also work wonders for your mental health, as research has found it reduces blood pressure and heart rate, creates feelings of wellbeing, and improves sleep, mood and stress levels.
9
She practices mindfulness in the mornings
Even as a self-proclaimed night owl, De Armas makes a case for starting the day bright and early. 'I'm not really a morning person. I need my coffee next to me and a little music,' she shares withVogue US. 'I've learned over the years, to enjoy the morning and use it to really take care of myself. What you do in the morning is your ritual, at your pace and time. All these things help me wake up and figure out what I feel like that day.'
10
She mixes her workouts up to keep them fun
De Armas tells People that she stays motivated by changing up her workouts. 'Exercise makes me happy, but it has to be fun. I do something different every day – one day boxing, the next spinning or weight training – to not get bored.'
11
She uses podcasts to switch off
'Sometimes I have night shoots, so I have to change my whole schedule and sleep during the day,' she tells Marie Claire. 'It's really hard to unplug and just go to bed – sometimes I just can't because my head is spinning. I've been using this app I really like called Waking Up to help with that. It's really helped me to breathe and relax and just get into that zone I need to be in to rest a lot.'
12
She has a bath every night
Is there a better way to indulge in some self care than with a bath? De Armas thinks not. 'I've made part of my daily routine taking a hot bath every day with my salt and soap and a bath bomb. Even if I'm rushed, I just make sure that I'm in there for 15, 20 minutes,' she tells Glamour. 'I don't want to skip it. It's become such an important part of my routine before going to bed. And no phones in the bath!'
13
She does boxing to release any pent-up energy
Talking to Who What Wear, De Armas reveals that boxing is one of her fave workouts. 'It releases all of this energy and there is nothing boring about it. You don't have to do the same thing every day because you don't feel the same day every day, you know? I get a lot of joy from it, and it's a great workout, trust me!'
14
She's made fitness a habit, not a chore
Regular training has always been a part of De Armas's routine, but she upped her game to an impressive five workouts a week when shooting as agent-cum-stunt woman Paloma in No Time To Die back in 2019.
15
She's discovered what makes her happy
'I think we are all forced to not necessarily find, but examine what we really like, and what makes us happy on our own,' she tells Natural Diamonds. 'How do you stay inspired? How do you stay happy? How do you stay even-minded? For me, this has been meditating and actual phone calls. I like to hear people, as opposed to texting. And, this is more circumstantial or situational, but I love hearing when something good happens to a friend. I get happy if they're happy!'
Advertisement – Continue Reading Below